Standing Desk
So, like many, I've wanted to try a standing desk for a while now. Having recently moved into my new office space (aka the garage), it seemed like a good time to set one up.
Why?
Standing desks are the in thing but, in fact, are not a new concept. History has our back on this one, don't you know? Illustrious characters such as Hemingway, Jefferson & Churchill were all users.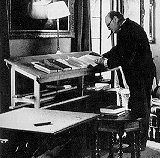 The well covered health benefits were something that caught my attention. But the added thing that totally sold me was the productivity boost it can give.
Getting yourself motivated isn't always easy. For me, being self-employed, it's pretty important to keep motivated. Standing gives you a sense of urgency that you don't get while sitting down. You're less comfortable which helps to avoid feeling sleepy and keeps you alert.
Any productivity boost is always more than welcome *sips his cup of coffee*. Small margins can end up making big differences.
Day to day, my plan is to use the desk to efficiently achieve clearly defined bits of work. For example, I'm using the desk for this writing post.
How?
There were a few things I knew would be important for me:
Have the right ergonomics;
Not be messy;
Be a serious usable working setup;
Be temporary.
Right Ergonomics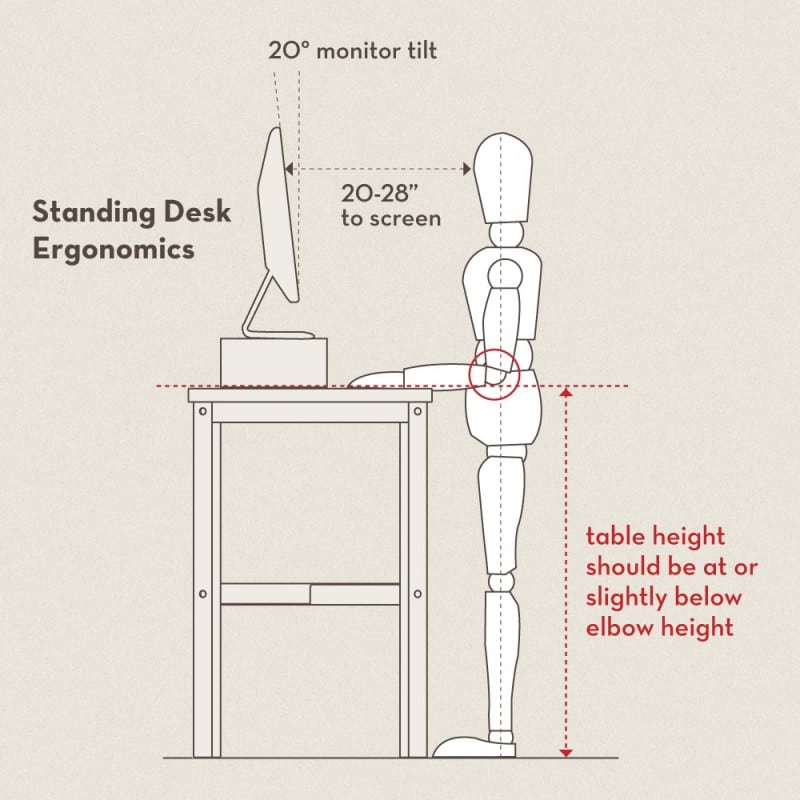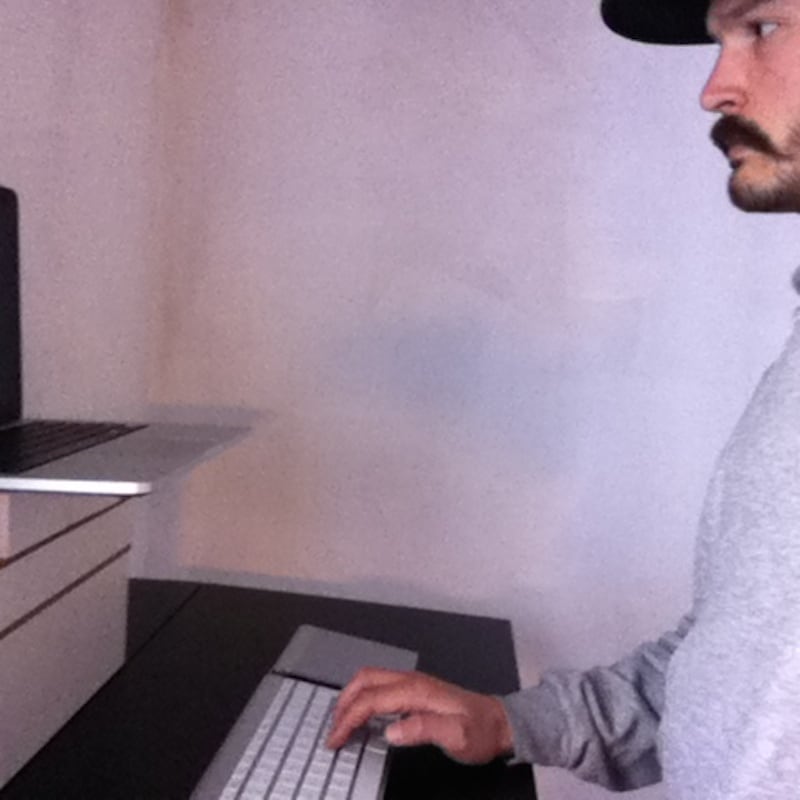 If I'm going to do it, I want it right. I wanted the right standing desk ergonomics in order to get the most out of it.
I didn't want to just be typing at my laptop on a high desk. I raised the laptop up so that it's at the right height. And use the same keyboard and mouse as on my sitting desk. Transferring between the standing and sitting desk is easy.
Not Messy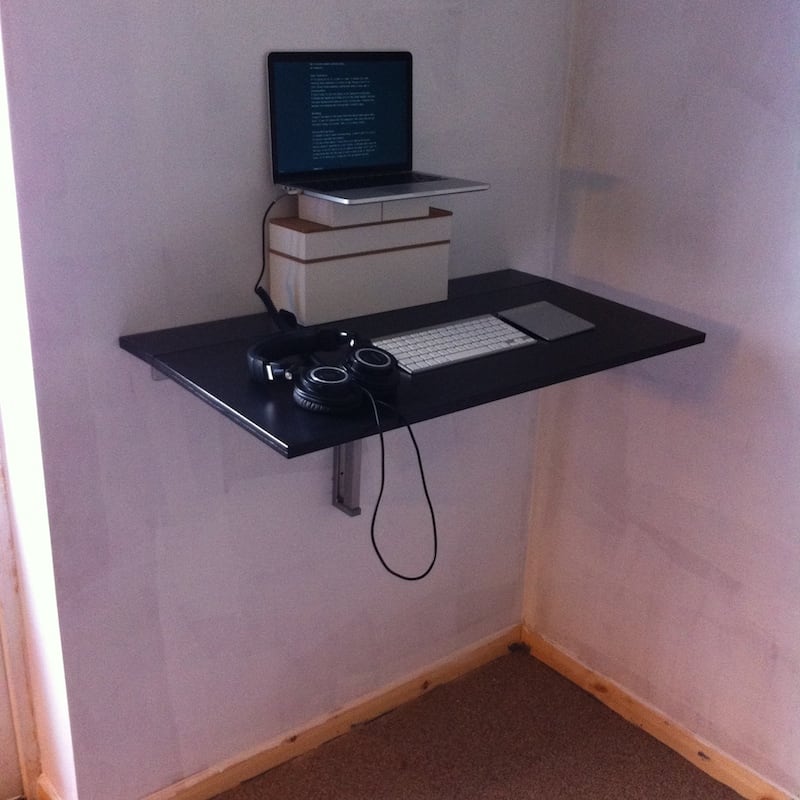 I wasn't too keen on the [usual Ikea hack](http://iamnotaprogrammer.com/Ikea-Standing-desk-for-22-dollars.html) which looks messy imho. Sure, it sort of checks the "be temporary" box since you can put the whole thing in a corner. But, it's a messy corner. So this is what I came up with and I'm pretty happy with it.
Serious Working Setup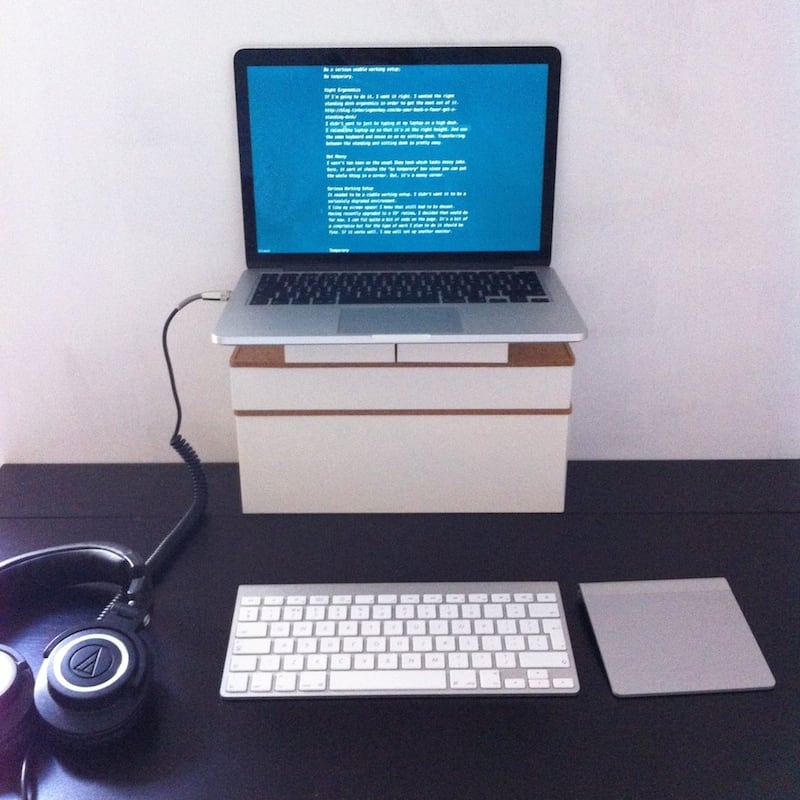 It needed to be a viable working setup. I didn't want it to be a seriously degraded environment. I like my screen space! I knew that still had to be decent. Having recently upgraded to a 13" retina, I decided that would do for now. I can fit quite a bit of code on the page. It's a bit of a compromise but for the type of work I plan to do it should be fine. If it works well, I may well set up another monitor.
Temporary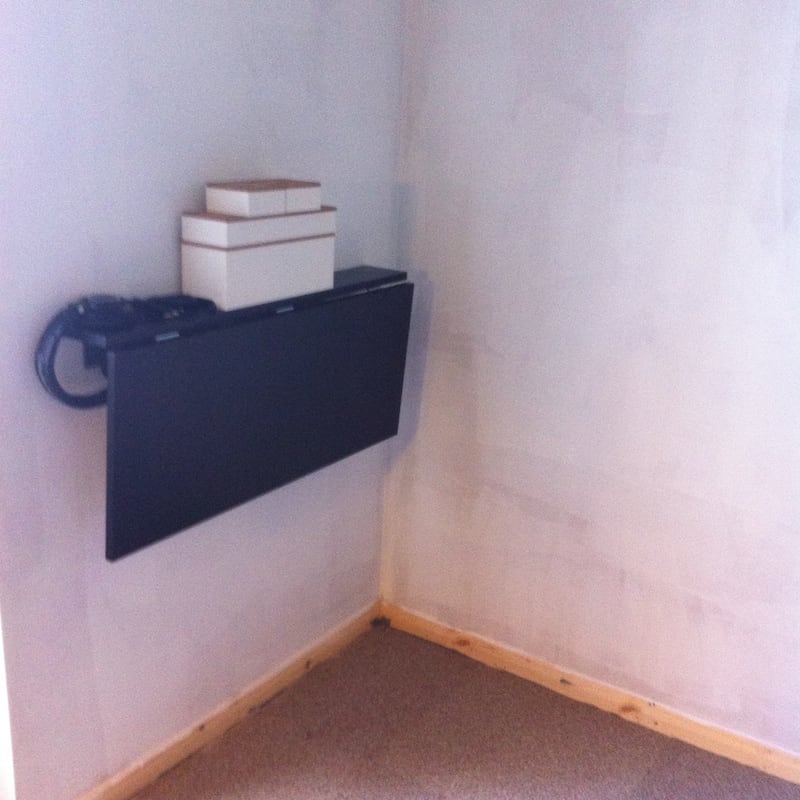 My sitting desk with still be my primary desk so I wanted to be able to hide the desk away. Also I wanted to conserve as much of my work space as possible. The Ikea drop leaf wall mounted desk was perfect. I can fold it up when I'm not using it and it still looks tidy.
I will post an update in a while to share how it's gone.